Importing from My Tracks
My Tracks is a Google application available on Android phones to record your journeys and share them with others. My Tracks supports uploading your recorded tracks to Fusion Tables.
Once you have recorded a journey on your mobile phone using My Tacks and uploaded it to Fusion Tables it can be imported in to MapProvision where you can add it to your Data Collections and display it in the Viewer.
Steps to import a My Tracks layer
You can download My Tracks from the Google App Store and install on your Android phone.

Once you have recorded a track go to Tracks on the menu.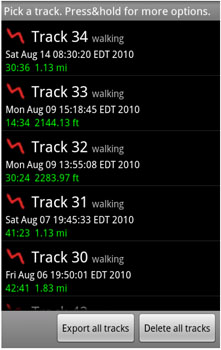 Hold your finger on the track you want to share and select send to Google.
Click the Google Fusion Table checkbox and click send now.
In a web browser you can then go to the Google Fusion Table Application and click on the Fusion Table that you have uploaded from your phone.
You can then follow the instruction in the Import Fusion Table Section to import your My Track layer into MapProvision.